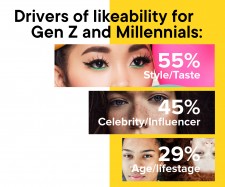 VidMob State of Social Video Study Reveals Where Younger Audiences are Being Entertained and How Advertisers Can Fit In.
NEW YORK, August 7, 2018 (Newswire.com) - Social is the definitive source for video and serves as the primary portal to the web for younger audiences, according to the State of Social Video study from creative tech leader VidMob. This illuminating research study reveals where and why Gen Z and Millennials consume video content, engage with video ads and form perceptions about brands. The full report is available here.
The findings from VidMob's State of Social Video study have implications on how marketers use video ads to connect with younger audiences:
VidMob is immersed in the world of mobile video and we have noticed a number of interesting trends among younger audiences that we sought to validate with a formal study. Our study focuses on actionable creative insights for brands seeking to connect with GenZ and Millennial consumers.

Stephanie Bohn, CMO, VidMob
1. Social is the new TV:
33% of Millennials and 41% of Gen Z consumers' digital time is spent watching video
59% of Gen Z's time spent watching video is on social, 5X more than linear TV and 2X more than streaming services
2. Social has become the portal to the web:
42% spent more time on social apps than last year across all platforms
Usage of social apps outpaces that of mobile browsers. Less than 5% of consumers under 35 launch mobile browsers first.
3. Stories gain momentum:
70% of Gen Z regularly watches Stories on Snapchat and Instagram
Gen Z is outpacing Millennials in their consumption of the Stories video format
For all younger audiences, How-Tos, Tutorials, and Hacks are the most popular types of videos consumed, with 46% watching on a weekly basis
42% of Gen Z watch Vlogs weekly, with Pranks next and Unboxing a distant third
27% of GenZ and 26% of Millennials seek out video content for products or services they are considering buying
For GenZ females, 56% favor humor when evaluating videos, far more than celebrity (17%)
4. The meaning of personalization has changed for younger audiences:
Across the board, similar style and the taste is most important for whether either generation likes an ad
By contrast, more traditional means of personalizing, like matching gender, age, ethnicity or featuring a person's name are deemed far less important by GenZ and Millennials
44% of Gen Z are annoyed by brands or like them less when they are overly repetitive; 34% Millennials either tune out or start to dislike brands who play the same ads over and over
48% of Millennials recommend that brands keep their videos short (versus 34% GenZ)
Millennials say freshness over frequency is the best way to get them to engage; GenZ agrees but 23% feel getting the music right should be a priority
VidMob surveyed 1,000 16-24-year-olds and 1,000 25-34-year-olds in the U.S. between May 14 through May 23, 2018, about their media consumption and digital and advertising preference. Similar surveys were conducted in the UK, Netherlands, and Germany.
About VidMob
VidMob is the world's leading video creation platform with innovative technology solutions that enable a network of highly trained creators to develop marketing communications that are insight-driven, personalized and scalable. VidMob creators produce the full spectrum of video content across every social/digital channel, format, and language. VidMob is an Official Marketing Partner of Facebook, Instagram, Snapchat, Twitter, Pinterest and LinkedIn and the recipient of two top industry awards, Instagram's Innovation Award and Twitter #Promote. Learn more about VidMob here.
Bronagh Hanley, bronagh@bignoisepr.com, 415-314-7262
Source: VidMob
Share: