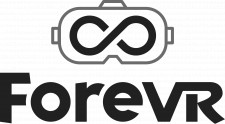 VR Gaming StartUp Builds Out Leadership Team to Capitalize on Rapid Growth
LOS ANGELES, August 25, 2021 (Newswire.com) - VR gaming company ForeVR Games announced four key senior hires today as it builds out its senior leadership team. The one-year-old company is growing rapidly based on the success of their first game, ForeVR Bowl, which just launched in May and is a favorite with reviewers and consumers alike.
Yichel Chan is the new VP of Second Party Production focused on external developer collaboration to expand the company's scope and production pipeline. With his 20-plus year background in mobile at Glu Mobile and Tremor Video, Chan brings a unique set of skills to the ForeVR Games team.
Virginia McArthur is VP of First Party Production tasked with leading ForeVR's internal studios in developing the most social and connected experiences and redefining what VR should look like while overseeing game production for ForeVR Bowl and upcoming titles. McArthur brings more than 25 years' experience in creating video games to ForeVR Games with leading roles at Zynga, Maxis, and Electronic Arts.
Darren Craine takes on the role of VP Engineering, where he will lead and grow the engineering team as the company refines ForeVR Bowl and brings new games to market. Previous roles at Zynga, Drop and Platform Science primed Craine to oversee teams with high output and low turnover.
Lauren Koester joins the team as Senior Director of Marketing, overseeing all PR, community and marketing efforts as the company grows its game portfolio. A senior marketer passionate about building gaming communities and elevating VR marketing, Koester's previous experience includes roles at Amazon, Microsoft, Xbox and Unity Technologies.
Former Zynga executives and social gaming pioneers Marcus Segal and Mike Pagano Doom launched ForeVR Games to bring VR games to the masses. In addition to ForeVR Bowl, the company plans to debut more games in late 2021 and early 2022 focused on bringing IRL games to life through creative immersive experiences and next level social for all ages, geographies and abilities.
In 2021, almost 43 million people in the U.S are using VR at least once a month. Coupled with VR technology being more affordable and accessible, the company is in prime position to take advantage of current market trends.
"We are building a world-class team to make the most engaging and entertaining immersive experiences in VR gaming," said CEO Marcus Segal. "VR's time is now, and we are ready!"
Founded and run by Marcus Segal and Michael Pagano Doom, the company is creating category defining games with social play that offer entertainment for everyone. Learn more at ForeVRGames.com.
Source: ForeVR Games
Share: