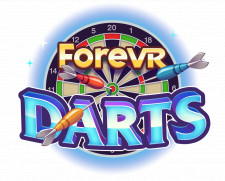 ForeVR Darts Offers Experimental Hand Tracking Technology
LOS ANGELES, December 8, 2021 (Newswire.com) - ForeVR Games, the virtual reality gaming company that brought you ForeVR Bowl, is launching its newest game on Dec. 16, 2021, at 10am PT with ForeVR Darts. Available on Oculus Quest and Quest 2 for $9.99 USD, ForeVR Darts brings the game of darts to VR with core simulation gameplay and the next-level social experience ForeVR Bowl players have come to love.
Throwing darts comes naturally thanks to ForeVR Darts' integration of experimental hand-tracking technology. Whether players opt for hand tracking or controllers, they will explore unique Darts halls, from the classic UK Pub to an-out-of-this-world Mars station. Each hall features curated house music and - ForeVR Games' fan-favorite - jukebox with access to thousands of songs.
The game offers Easy, Medium and Hard throw modes to suit players from novice to Darts pro. With epic graphics, animations and effects, ForeVR Darts allows players to immerse themselves in the game. Stacked with over 50 darts at launch, the ProShop gives players a choice of dart type, weight, and effects to uniquely equip their arsenal.
ForeVR Darts has interactive animations such as high-fives and fist bumps to amp up the fun and make the VR presence come alive. Playing with others is easier than ever: set up a private room to meet up with friends and family, or join a public match to challenge players all over the world. Players can level up against a host of colorful in-game NPCs to inspire a little friendly competition in solo play or while waiting for players to join their multiplayer lobby.
The ForeVR Darts logo is here and teaser trailer is here.
"Just like ForeVR Bowl, ForeVR Darts is all about bringing people of all ages and abilities together in play. From the core gamer to your grandparents, this game offers something for everyone," said ForeVR Games CEO and Co-Founder Marcus Segal. "As we adapt more IRL games for VR, we look to our community for feedback as we build games to be truly unique experiences they can't find anywhere else."
About ForeVR Games
ForeVR is a global gaming company dedicated to making mass-market-accessible VR games playable by people of all ages and geographies. Founded and run by Marcus Segal and Michael Pagano Doom, the company is creating category-defining games with social play that offer entertainment for everyone. Learn more at ForeVRGames.com.
Source: ForeVR Games
Share: